Beaufox 613 Blonde Malaysian Straight 3 Bundles With Closure Virgin Human Hair
5
stars, based on
26
reviews
Price:
$115.93$63.51 / [ 4 pack / Lot ]
Length

8 10 12+8
10 12 14+10
12 14 16+10
14 16 18+12
16 18 20+14
18 20 22+16
20 22 24+18
22 24 26 +20
8 8 8+8
10 10 10+10
12 12 12+10
14 14 14+12
16 16 16+14
18 18 18+16
20 20 20+18
22 22 22+20
24 24 24+20
26 26 26+20
10 12 12+8
12 14 14+10
14 16 16+12
16 18 18+14
18 20 20+16
20 22 22+18
22 24 24+20
24 26 26+20

ITEM SPECIFICS

DESCRIPTION

REVIEW
Item specifics
Human Hair Type:
Brazilian Hair
Packaging:
3 pcs Weft;1 pc closure
Material Grade:
Virgin Hair
Suitable Dying Colors:
All Colors
Chemical Processing:
None
Product Features
Hair Item: Beaufox 9A Grade Malaysian Straight hair 3 Bundles With Lace Closure #613 Blonde Color Virgin Human Hair
Materail: 100% Virgin Human Hair Bundles ,Virgin Malaysian Straight hair Weaves
Hair Color: #613 blonde hair
Hair Grade: Virgin Hair,9A Grade,Malaysian Virgin Hair,Medium Luster,Bleach/Dye Friendly
Hair Length: 8 inches-26inches is available,Very Soft,Health and thick
Hair Weight: 100g each bundle
Hair Closure:4*4 Lace Closure,Free Part/.8-20inch
Arrival time:Normal 2-6 working days can be arrived, delivered by DHL / FEDEX.
Shipping&Returns&Services
Shipping:Your goods will be shipped with in 24-48 hours,we know you are enger to get it,3-5 working day to arrive,click shipment for details
Return:If you are not completely satisfied with your purchase for any reason, you nay exchange an eligible item for a different item in 15 days ,free return on 30 days,provided you follow the proper return procedure and eligibility guidelines.
Services:Any questions can be answered within 24 hours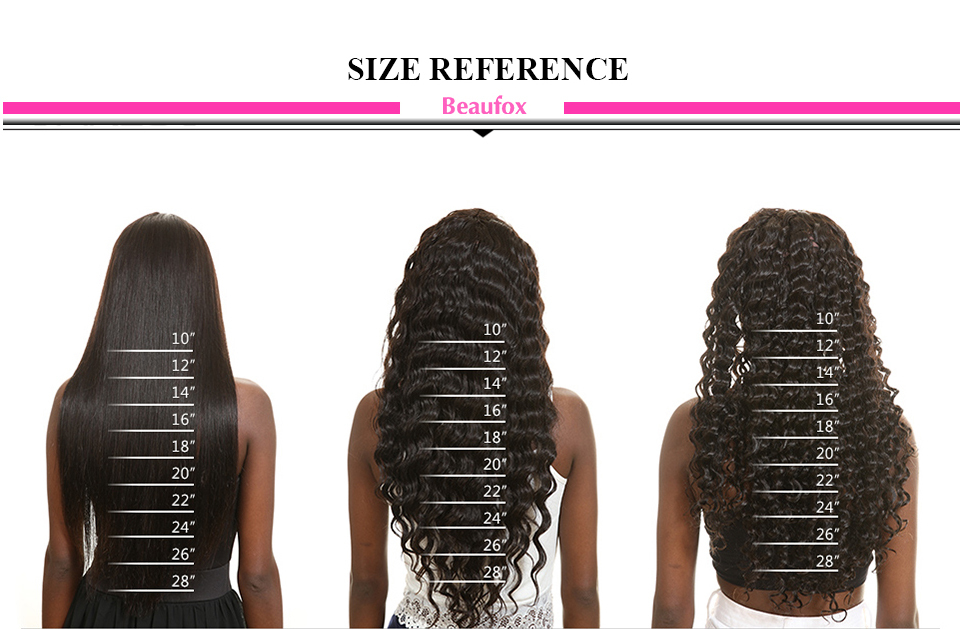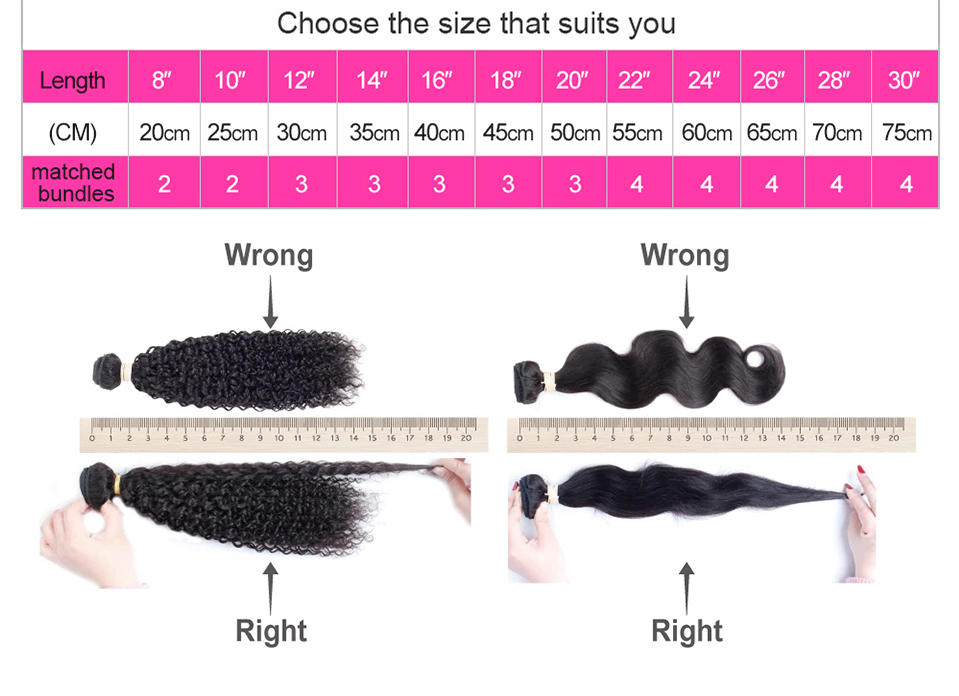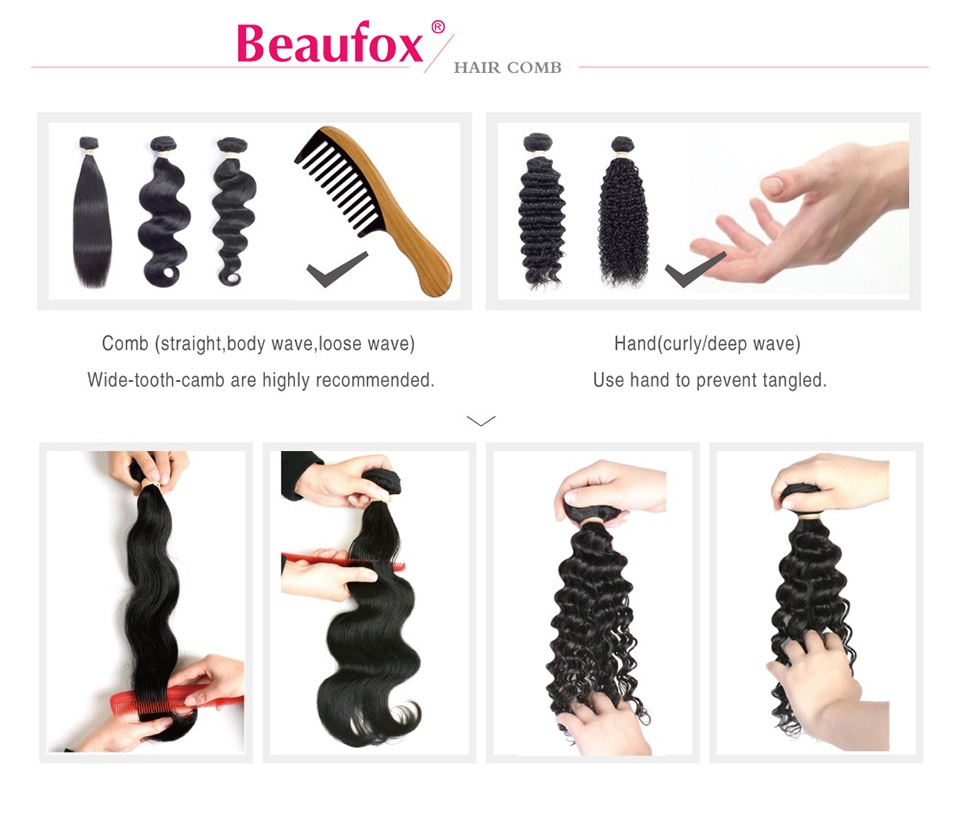 FAQ
Q1:How Many Bundles should I Purchase?
A1:If you want to full fill one head,3 pes will be okay,If the hair is over 18'',4pes should be better.Also,if you do not have leave out,you could try to 3 bundles with closure,3 bundles with frontal closure,it will save your more money
Q2:What length should I purchase?
A2:All bundles must be measured to the stretch.With that said,please keep in mind that you will need to accommodate for its curl pattern when selectingyour desired length
Q3:How long do the hair bundles last?
A3:Our bundles typically last for 6-8 months,if cared for properly.
ByKyra SmithThursday, 18 April 2019
ByCarlquita BowieFriday, 22 March 2019
ByMalika FordFriday, 22 March 2019
ByTytianna WelkerWednesday, 13 March 2019
BySandra CooperWednesday, 13 March 2019
ByT Pittman Tuesday, 22 January 2019
ByLucer HenlaMonday, 06 August 2018
the description was a exact. the communication with the seller was perfect. the shipment was very fast as well. I received it with 4 days to Germany. I'm loving this hair and I recommend you to get yours.
ByMelela KulaSaturday, 28 July 2018
ByEleem KulaWednesday, 25 July 2018
Absolutely first class service Excellent, I cannot say enough about this hair absolutely amazing ! I Love This Vendor, this is the only vendor I will ever get my hair from this is great hair probably one of the best vendors . & the communication is great.
ByNellea KulaTuesday, 17 July 2018
Hair is so soft & bouncy! No shedding either. Will definitely be purchasing from here again.
ByTellea KaladeMonday, 02 July 2018
The seller communication was excellent I was notified with updates from the time I purchase the hair. It took only 5 business days to receive the hair. Its nice and soft I cant wait to install as of now I will most definitely be ordering from here again
ByKaluo JenneWednesday, 20 June 2018
This hair is sooo damn softtt lemme tell you how I ordered European blonde hair only to be mistaken about how many bundles . I felt like it was better than the European in texture , length !!! , and the size of the bundle I immediately began making a wig my only wish was to have another bundle of this hairrr an I will definitely buy from them again my seller was always reachable & would answer any question I asked especially with shipping . I received my bundle in 3days with dhl
ByAmeler KundeTuesday, 19 June 2018
of my order being placed which was incredible, while waiting to receive my package I received the best customer service I've ever encountered when which was amazing! When the hair arrived I was pleasantly surprised by how beautiful the hair was. The lace on the closure itself was lovely and matched my skin tone perfectly, and the baby hairs are gorgeous. once installed it was even more beautiful!! For anyone considering buying this hair I'd say go for it!Overall it's been a great decision & I plan to buy more from this vendor!
BySller HenlaTuesday, 05 June 2018
Great hair and got here to AK very fast. Thank you
BySoola KendeSunday, 03 June 2018
ByKuulae MenlaMonday, 21 May 2018
The hair is amazing! Shipping was fast as well. I'm so happy that I've found good 1b 613 hair, so far I haven't experienced any shedding which is a surprise. I will definitely be purchasing this hair again very soon
ByVarla JenkeTuesday, 15 May 2018
ByMenla KulaedTuesday, 15 May 2018
The communication was really good. The hair is really good quality and I loved it. There was literally minimal shedding and the hair took dye well as the hair did not change quality. I would recommend this hair brand as I have bought from them before
ByKadel MenlaTuesday, 17 April 2018
The hair is super long and true to length. I have toned, washed and conditioned it twice and the hair is still really soft and the wave pattern after air drying is lovely. I am experiencing little shedding, not too much however it's blonde hair so you can expect that. Anyway I hope the hair quality remains the same if so I will be ordering from this vendor again. For now I'm pleased.
BySellea KulaeMonday, 09 April 2018
Best hair vendor! and the bundle are so full i love it the shipping was super fast and the communication was awesome
Search engine
Use this form to find things you need on this site